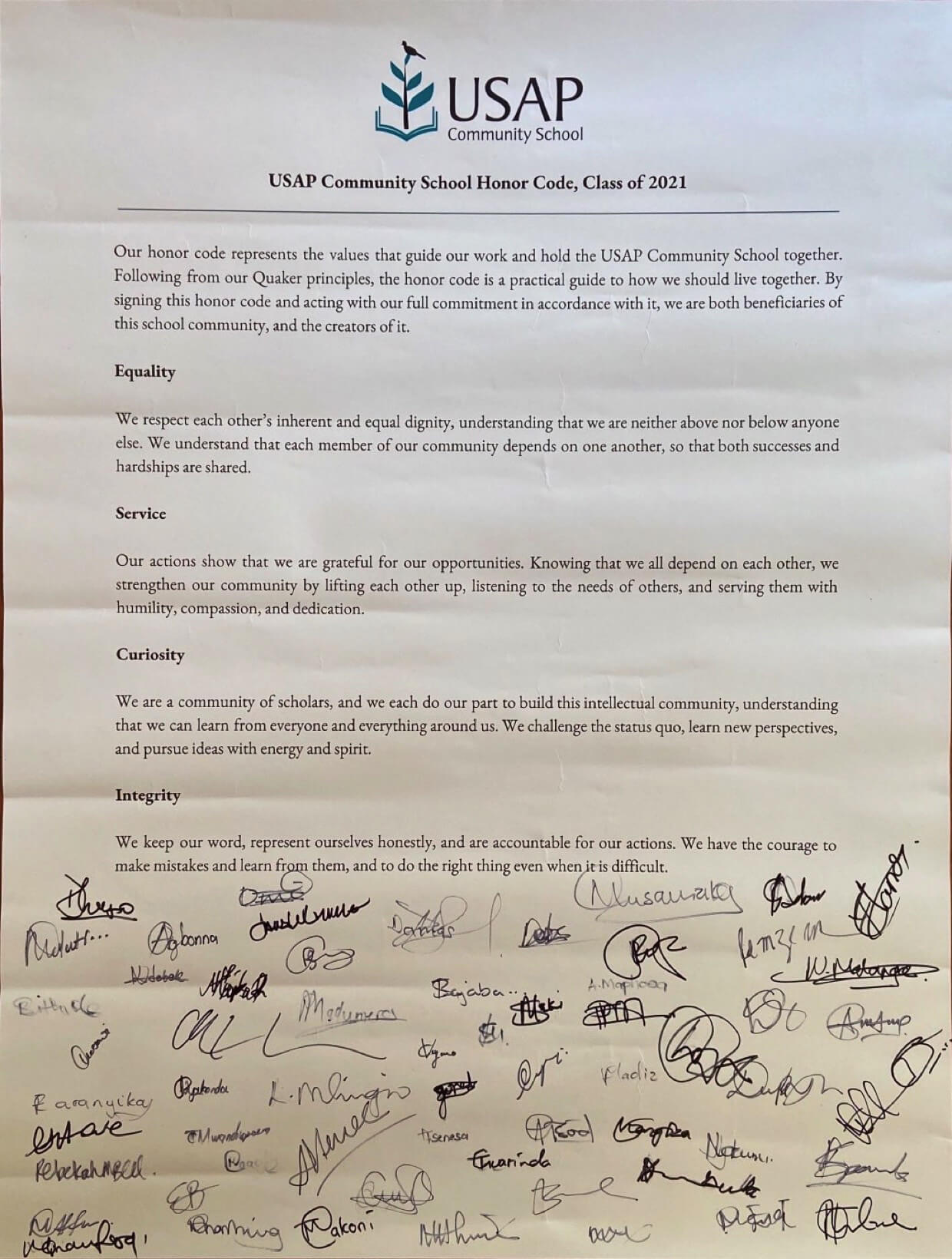 We believe that a school teaches as much by the principles through which it is run as it does by the curriculum that it offers. At the core of USAP Community School, therefore, is our Honor Code, and the Quaker principles that it comes from.
The Quakers are a religious group that believes in living a life of simplicity and purpose, in service to others. Quakers recognize that each person has an inner light, and can make their mark on the world not by what they say but by what they do – by "letting your life speak," as the Quakers often say.
Three of our school values – integrity, service and equality – come directly from Quaker principles. We aim to educate outstanding young people who stick to their word, see the dignity of everyone around them, and view their education as a way of serving their communities. Our fourth value, curiosity, reflects the intellectual quality that we most value in our students – that ability to go beyond what they are learning, and to learn not for the sake of passing exams but to grow as people.
These values are stated directly in our Honor Code, which appears below. At the beginning of each year, we hold a ceremony in which every student, faculty and staff member at the school signs this Honor Code, agreeing to live by its principles. The signed copy hangs on the wall of the school dining hall, where all members of the community see it every day.
The USAP Community School Honor Code
Our honor code represents the values that guide our work and hold the USAP Community School together. Following from our Quaker principles, the honor code is a practical guide to how we should live together. By signing this honor code and acting with our full commitment in accordance with it, we are both beneficiaries of this school community, and the creators of it.
Equality
We respect each other's inherent and equal dignity, understanding that we are neither above nor below anyone else. We understand that each member of our community depends on one another, so that both successes and hardships are shared.
Service
Our actions show that we are grateful for our opportunities. Knowing that we all depend on each other, we strengthen our community by lifting each other up, listening to the needs of others, and serving them with humility, compassion, and dedication.
Curiosity
We are a community of scholars, and we each do our part to build this intellectual community, understanding that we can learn from everyone and everything around us. We challenge the status quo, learn new perspectives, and pursue ideas with energy and spirit.
Integrity
We keep our word, represent ourselves honestly, and are accountable for our actions. We have the courage to make mistakes and learn from them, and to do the right thing even when it is difficult.